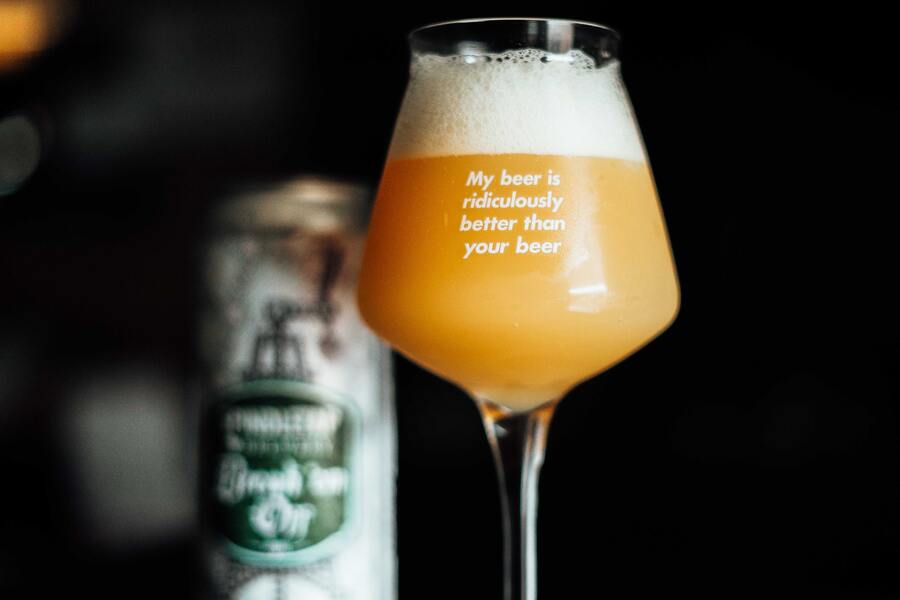 The most challenging aspect of drinking a good beer in Oakland is picking which of the city's numerous breweries to visit. Each major city in the Bay Area has its own distinct artisan culture scene, and beer is becoming increasingly linked to Oakland's expanding culinary culture. Reduced business costs have attracted big brewing expertise to the city, fostering a concept of craft beer made by the people, for the people.
Original Pattern Brewing Company
While their surreal taps may have you wondering if you were abducted by aliens, Original Pattern Brewing Company's beer will return you back to Earth. Their  barleywine has the unmistakeable taste of cookies. The smoked coffee porter will have you wondering if beer can be counted as breakfast. Original Pattern allows guests to reserve cans online if you don´t want to miss out on a limited run.  This comes in handy as they regularly runs out of stock as soon as it is released.
Drake's Brewing
It's impossible to discuss breweries in Oakland without mentioning Drake's. This craft-brewing legend first served its brews in 1989 and has steadily grown since. Their acclaimed IPAs, notably the omnipresent Best Coast label and the infamous Denogginizer, are legendary. Drake's flagship brewpub in San Leandro, which borders Oakland to the south, boasts food that is almost worth the journey by itself. But, if you can't make it, drop by Drake's Dealership in Oakland. In the outdoor beer garden, you'll find fantastic food, great excellent beer, and proper vibes.
Temescal Brewing
Temescal Brewing has a lot going for it. To begin, they provide an impressive mix of accomplished classic styles, such as their altbier and the super smooth coffee porter. Then there are the more contemporary recipes that showcase a lot of flavor and personality. Their white ale with apricot and orange, known as the Forever Sun, is a masterclass in harmony of its elements. As the ingredients linger on your tongue, each sip adds more and more depth. Whilest they are primarily a brewery, there is always at least one food truck on hand to keep your hunger at bay. If the food truck does not appear, Temescal provides complimentary freshly popped popcorn. Crowlers are also available if you want to take away any of their beers you have enjoyed on tap .
Ghost Town Brewing
West Oakland isn't exactly buzzing, which might be where Ghost Town gets their name. With fifteen taps though, there's enough beer to last a whole afterlife. The Cat Hoarder nitro milk stout is smooth and rich, whilst the Locrian pale ale is one of the best in the San Francisco Bay Area. Be sure to grab the four-pack of the latter if it's in the fridge. Ghost Town really is the place to go if you're a ghoul yearning for a good time.
Ale Industries
For almost a decade, Ale Industries has been one of the best breweries in Oakland. Throughout that period, their primary concept has remained the same: to show people how diverse beer can be. They have a great selection of hoppy beers as well as crisp/clean beers for the more traditional palate. But it's until you start digging into their strange stuff that you realize this spot is really special. Take, for example, their raw ale, which is created with gin-inspired ingredients. It's aromatic and unusual,and completely captures what makes this brewery special.