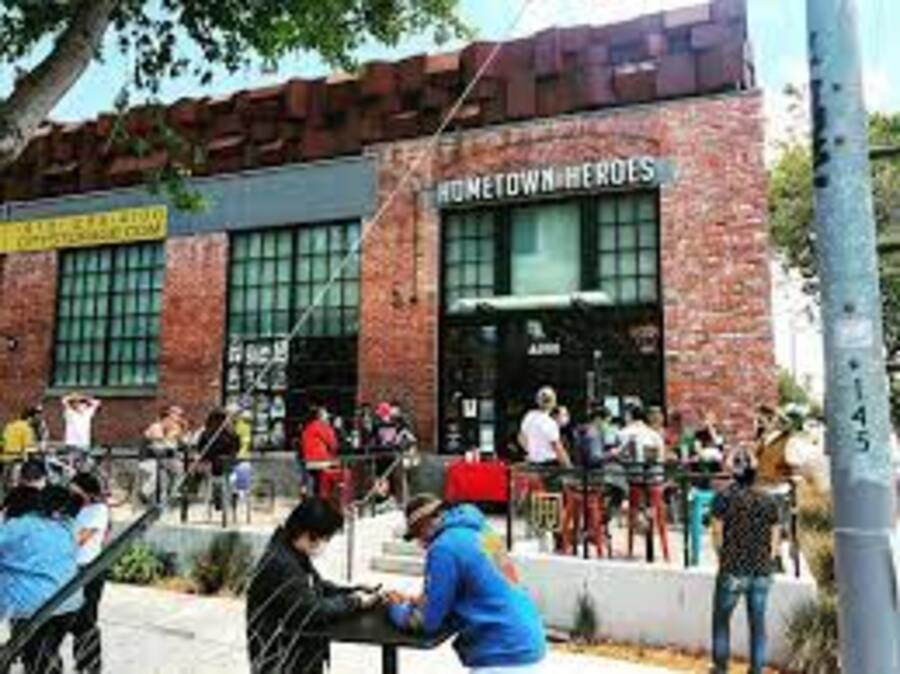 East Bay residents are extremely proud of their local teams, which include the Golden State Warriors, the Oakland A's, and Cal football. That means there are lots of sports bars in Oakland and Berkeley to watch home team games, as well as NFL, Premier League soccer, NCAA college football, and other sporting events.
These 10 East Bay sports pubs provide a social setting where you can watch the game, drink beer, eat, and shout at the refs.
Grand Oaks
Grand Oaks, one of the oldest sports bars on this list, started in 1988 and has an old school, locals' hangout atmosphere. Whilst you can get a pint and a burger here, this is the only sports bar in Oakland where you can order escargot and a ribeye steak while watching the game.
Mad Oak Bar
Mad Oak, one of the East Bay's only rooftop bars, attracts regulars with its spacious patio and deck, rotating food pop-ups, extensive bar, and 40 brews on tap. It's a terrific place to watch a game leisurely, with multiple TVs on silent unless it's a significant sporting event, like a Warriors playoff game, in which case the sound will be up and everyone will be dressed in blue and gold.
The Athletic Club
The Athletic Club is one of the most serious sports bars in Oakland, with two floors, 40 screens, and 20 different sound zones. Following in the footsteps of the San Francisco version, the Oakland bar provides serious comfort in a choice of bar, booth, or dining table settings – and you can reserve your seats ahead of a big game. There's also a fully stocked bar, a huge food menu and an up-to-date calendar on the website.
George and Walt's
With around a dozen TVs, a full bar, reasonable priced beers, and basic bar fare, Rockridge's classic and friendly neighborhood tavern is a laid-back, no-frills venue to watch sports. There aren't many establishments like it in the otherwise affluent neighborhood.
Fort Green
Fort Green, from the same team that brought you The Miranda and Drexl, is an elegant sports bar in an art deco property in Old Oakland. Retro cocktails, boozy slushies, buckets of beer, wine, and Ferraris on tap are available, along with appetizers or pizza. If you don't want to watch the game, Fort Green also has Hoop Fever, shuffle board, and board games.
Pappy's Grill & Sports Bar
Pappy's Grill & Sports Bar, named after legendary UC Berkeley football coach Pappy Waldorf, is the place to go to watch Cal games with raucous fans. There are two full bars, 16 beers on tap, 15 TVs, and a massive 205-inch HD projection screen, so everyone will be able to view the game. If you're hungry Pappy's serves burgers, sandwiches, and salads.
Bobby G's Pizzeria
This Berkeley pizza joint has TVs on the walls so you can see the game from wherever you are. There is only beer and wine available, but the beer selection is local and fresh, with around a dozen taps. While watching Sunday morning football, share a New York-style pizza or a pan-fried breakfast pizza. Bobby G's has a schedule of the games that will be shown on its website.
Hometown Heroes
With Warriors and Athletics memorabilia on the walls and games on the TVs, the East Bay branch of Hometown Heroes celebrates the sports teams of Oakland. It's a bit small, and the TVs are difficult to see from the huge patio, but Hometown Heroes overcomes all that with spectacular drinks like the Rickey Henderson (rum, blue curacao, pineapple) and refined Filipino food via the pop-up Likha.